Expect New Traffic Configuration July 23 on Southbound I-25 in Colorado Springs
July 19, 2018 - Work is part of ongoing I-25-Rockrimmon interchange project

COLORADO SPRINGS—At 5 a.m. Monday, July 23, motorists can expect a temporary split lane configuration on southbound I-25 between Woodmen and Garden of the Gods Road. The left two lanes of southbound I-25 will split onto existing northbound pavement, and the right lane of southbound I-25 will split onto the existing southbound pavement, just right of the median. Concrete barrier will separate the split.
View video of the traffic shift: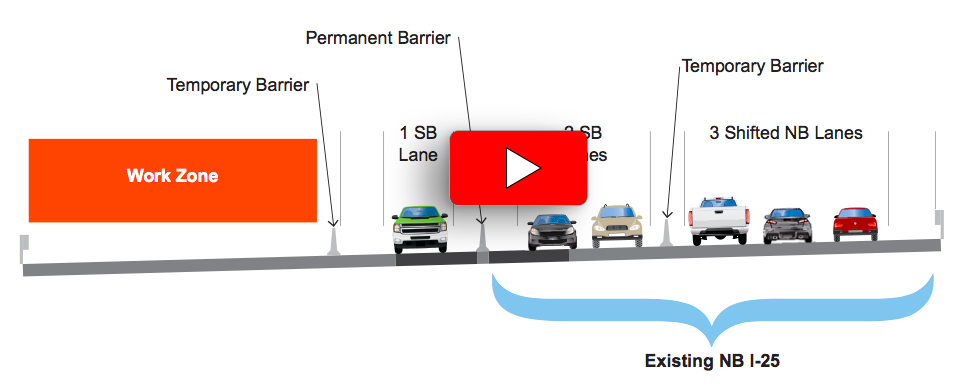 This split-lane configuration will be in place for two months as crews work on the southbound I-25 lanes.
Work Completed in Phase 1
Installed median concrete barrier
Replaced lighting
Improved ride quality in the right lane of southbound I-25
Widened northbound I-25 to match existing profile (Ride improvements in this area will be addressed in Phase 3.)
Looking Ahead to Phase 2 (mid-July to mid-September)
Complete preventative maintenance and ride improvements on the remainder of southbound I-25.
Northbound I-25 and the two left lanes of southbound I-25 will not be on final roadway surface in Phase 2.
Begin preventative maintenance and ride improvement on northbound and southbound on- and off-ramps over Mark Dabling.
There will be two additional phases to complete the ride improvements on the northbound I-25 lanes.
Project Info
CDOT started this bridge and driving-surface preventative maintenance project on 10 bare concrete bridges near the I-25-Rockrimmon interchange. Work will improve safety and ride quality. This project is part of the ongoing CDOT Asset Management/Bridge Preventative Maintenance Program that began approximately 10 years ago to extend to 75 years the life span of the state's bridges.