Traffic Safety Efforts Gear Up Ahead of Sturgis Rally
Aug. 1, 2018 - 44 Motorcycle Deaths so far in 2018

STATEWIDE—In Colorado, motorcycle deaths have increased 20 percent in the last five years. To keep roads safe for those traveling to and from the Sturgis Motorcycle Rally in South Dakota, CDOT and the Colorado State Patrol (CSP) will conduct a joint DUI enforcement period from Aug. 3 to 13. A "Safe 2 Sturgis" campaign will also enhance efforts to increase roadway safety.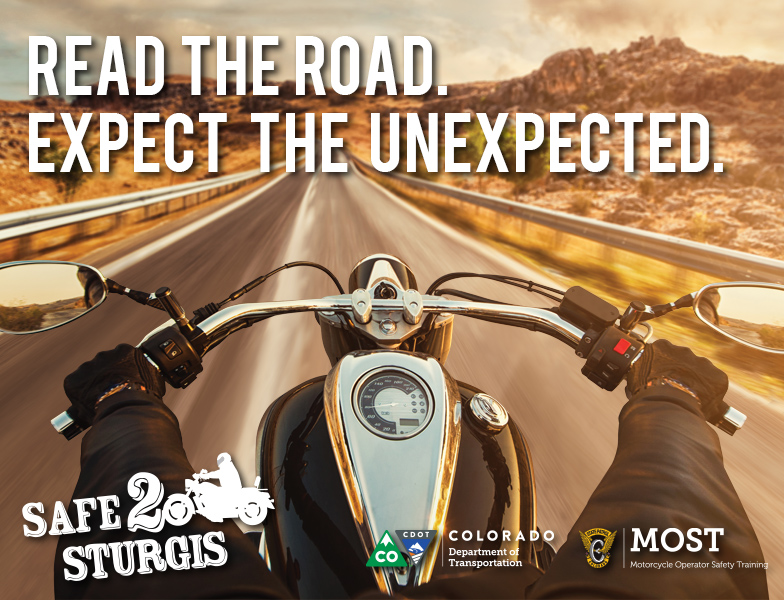 "Motorcycles make up just 3 percent of registered vehicles on the road, but motorcycles account for almost 20 percent of all roadway fatalities," said Darrell Lingk, director of the Office of Transportation Safety at CDOT. "To reverse the trend of rising fatalities, we need to eliminate impaired driving and riding."
During the DUI enforcement period, drivers and riders can expect additional patrols and extra officers on duty. This year, the rally is estimated to draw 500,000 riders from around the country. Motorcycle fatalities tend to increase in the summer with more riders on the roads.
"The Sturgis Motorcycle Rally is a great opportunity for riders to enjoy the warm weather and take their bikes on a road trip," said Col. Matthew Packard, chief of CSP. "It's when alcohol or drugs enter the equation that the risk of injuring or killing yourself or others in a crash increases tremendously. We want to ensure that drivers and riders travel safely to and from the rally this year."
Through Aug. 15, CDOT and the National Highway Traffic Safety Administration (NHTSA) will also be conducting a "Safe 2 Sturgis" campaign to encourage safe riding. A #Safe2Sturgis hashtag is included in the campaign to encourage motorists and riders to post photos of how all roadway users are staying safe to Sturgis. Social media and CDOT's digital message boards will help spread awareness.
"In July and August, every state in the West will see an approximate 30 percent increase in motorcycles, as rallies like Sturgis draw thousands of bikes to our highways," said Gina Mia Espinosa-Salcedo, regional administrator for NHTSA. "Motorcyclists are gearing up for long, dangerous rides, and we want everyone to arrive alive. For this reason, we're kicking off the third year of our 'Safe 2 Sturgis' campaign. All road users should know how to detect and respond to motorcyclists sharing the road, and riders must operate their bikes safety and wear full protective gear."
There have been 44 motorcycle deaths this year in Colorado. In 2017, there were a total of 103 motorcycle fatalities.
Impaired motorcycle riders risk the same DUI penalties as other motor vehicles. In Colorado, a DUI can cost more than $13,500 after considering fines, legal fees and increased insurance costs. Penalties increase for repeat offenders.
The CDOT Highway Safety Office provides funding to Colorado law enforcement for impaired-driving enforcement, education and awareness campaigns. The Heat Is On campaign runs throughout the year with 14 specific high-visibility impaired-driving enforcement periods centered on national holidays and large public events. Enforcement periods can include sobriety checkpoints, saturation patrols and additional law enforcement on duty dedicated to impaired-driving enforcement. See more details about the campaign, including impaired driving enforcement plans, arrest totals and safety tips.