Expect Delays Overnight Nov. 8-9 for Southbound I-25 Off-Ramp Closure to 144th Avenue
Nov. 6, 2017 -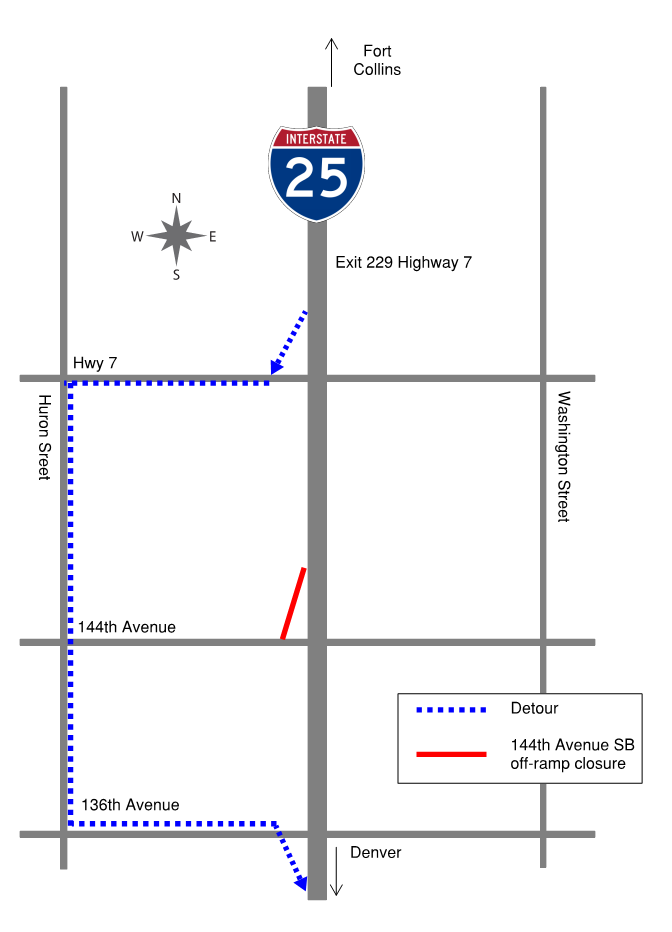 ADAMS COUNTY—From 8 p.m. to 5:30 a.m. on Wednesday, Nov. 8 and Thursday, Nov. 9, crews will close the southbound I-25 off-ramp as they prepare to install new storm sewer pipes beneath the interstate by cutting asphalt.
This work is a part of the North I-25 Express Lanes: 120th Avenue to Northwest Parkway/E-470 project. Detour routes are expected to have up to 25-minute delays.
Detours & Traffic Impacts
Those traveling on southbound I-25:

Exit at Colorado Highway 7/East Baseline Road.
Proceed west to southbound Huron Street.
Turn left onto eastbound 136th Avenue.
Get onto southbound I-25.

Expect delays and follow detours as directed.
Detour routes are expected to have a delay of approximately 25 minutes, depending on traffic.
The late-night weekday hours are scheduled to minimize traffic delays as much as possible.
Project Info
The North I-25 Express Lanes project from 120th Avenue to Northwest Parkway/E-470 is a $97.5 million project that will improve safety, capacity and user choice to a rapidly developing region.
This project will continue the previous Express Lanes project, which was completed on I-25 between US 36 and 120th Avenue, and will extend the Express Lanes to Northwest Parkway/E-470. The project will add capacity on I-25 up to Northwest Parkway/E-470 and construct a new asphalt surface from 120th Avenue to Colorado Highway 7. Motorists can expect the roadway to be in its final alignment by winter 2018.
Construction will take place from 7 a.m. to 4:30 p.m., Monday through Friday, with periodic night and weekend work. Motorists can expect various lane closures on both northbound and southbound I-25 as well as periodic ramp closures. Traffic will be maintained during peak travel times throughout construction.
About Express Lanes
Express Lanes increase roadway capacity and help to manage congestion on the highways. The use of toll pricing during peak travel times reduces delays, manages congestion and maintains reliable travel times. Express Lanes currently are open between 120th Avenue and US 36 on North I-25 and, US 36 from Denver to Boulder and on the I-70 Mountain Express Lane. Learn more about Express Lanes, or get and ExpressToll account and pass.
Ways to Commute
Smart Commute Metro North is offering some incentives to help you commute smarter! Visit smartcommutemetronorth.org for more information.