Monitor DBE Commitment Modifications
Monitor DBE Commitment Modifications training guides & process map for Primes, project oversight, and CDOT Civil Rights for design-bid-build construction projects.
Design-Bid-Build Construction Projects
Training Guides
All training materials listed below are in development and will be uploaded upon completion. Training guides correspond to step numbers in the process map.  
11-1 Contractor notifies DBE of intent to terminate

11-2 Contractor completes Section 1 and Section 2 of Form 1420 for submission to PE/PM
11-4 Review submitted information and complete signature section of the Form 1420
11-3 Review submitted information and completes Section 3 of the Form 1420

11-5 File completed Form 1420 and update information in B2GNow system
State email address required in order to access Civil Rights documents
Process Map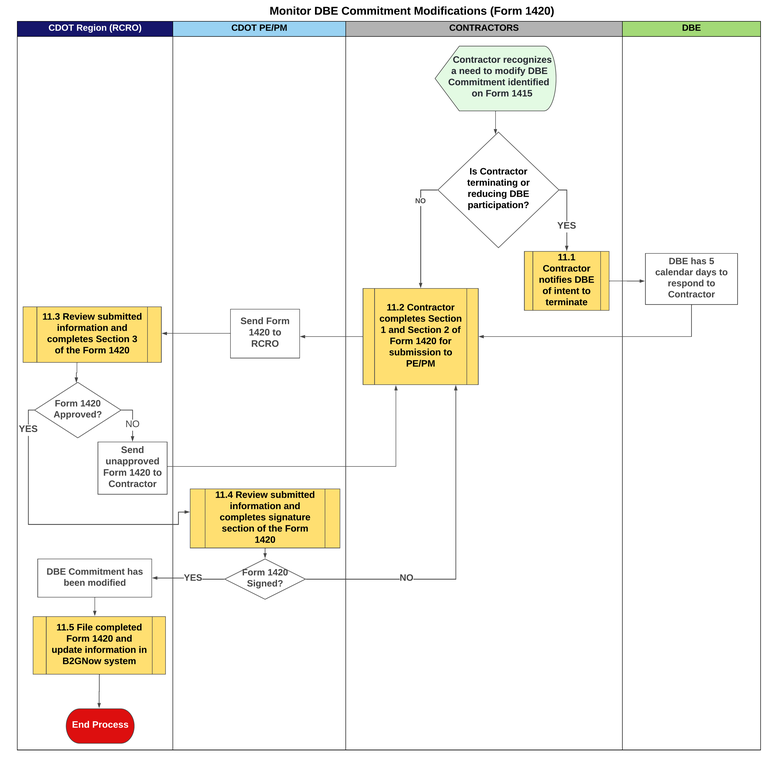 Download PDF of Monitor DBE Commitment Modifications process map (print-friendly)
Text version of Monitor DBE Commitment Modifications process map under development.